The Complete Guide To Marijuana Legalization in Canada
7 Sep 2019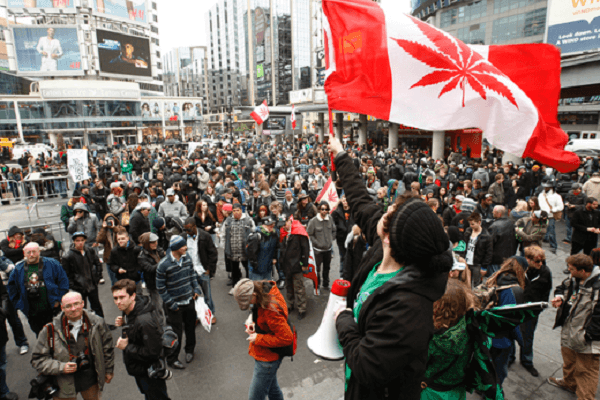 Recreational Weed Now Legalized in Canada
After years of steady progress towards the liberation of Canadian and US recreational pot laws, Canada has become the first major global economy to institute marijuana legalization. It became official on October 17, 2018, with jubilant celebrations breaking out across the country.
In what some are calling the biggest shift in public policy in fifty years, Canada's breaking news was the culmination of years of careful planning. Back in 2015, legalized pot was one of Prime Minister Justin Trudeau's campaign promises. Now, the promise has been fulfilled, much to the joy of cannabis owners and retailers countrywide. Read on to gain a deeper insight into how the law came about and what ramifications will affect the Canadian people.
Source: The Rolling Stone
A Little Background to Marijuana Legalization in Canada
Source: The 420 Times
In August 2016, Canadians were granted the right to use and possess marijuana for medical reasons by an ACPMR ruling. That enabled Canadian citizens to use medical cannabis when permitted by their doctor. As of that date, they were free to shop at online cannabis dispensaries to seek relief from varying health conditions as directed by their doctor.
Back then, the possession, sale, and use of cannabis for non-medical purposes remained illegal. So people were still faced with potential repercussions when working outside of that law. Fortunately, another bill dealing with their concerns was soon to be announced.
The Cannabis Act (2018) is First Introduced
A bill to legalize marijuana was first introduced to Parliament on April 13, 2017. The purpose of the Cannabis Act was to create a certain legal framework for controlling the production, distribution, sale, and possession of weed across Canada. At the time, the illegal trade of pot was a multibillion-dollar industry.
The proposed law centered around six main goals:
1-Limit youth access to cannabis
2-Stop the development of the black market
3-Fix the criminal justice system
4-Allow for the legal production of marijuana in order to decrease the rate of illegal activities
5-Protect public health by delivering safe and quality products to the people of Canada
6-Enable adults to possess and purchase regulated, safe, and quality legal weed
While the bill moved through legislative procedures, the status of recreational cannabis remained unchanged. Once Parliament approved the legislation, the plan was to bring the bill to life by July 1, 2018. This date soon became etched in every Canadian's mind as the Canada Legalization date. Parliament approved the bill in their landmark decision and the future of legalized recreational marijuana officially began in October of 2018.
Protections for Minors in The Cannabis Act
Source: YouTube
First and foremost, no person is allowed to sell or give cannabis to any person under the age of 18. Additionally, the Cannabis Act gives rise to two new criminal offenses:
Selling or providing marijuana to youth
Using young people to commit marijuana-related crimes
Anyone charged with these offenses can face up to fourteen years in jail.
On top of that, as the Cannabis Act is aimed at protecting young people from trying cannabis too early. As with alcohol, cannabis companies cannot pack, label, or market their products in a way that could be appealing to youth.
Not enough research has come out regarding whether or not cannabis affects the way young people develop. That being said, the promotion of cannabis can take place only in limited circumstances. For instance, where young people cannot be affected by promotional commercials. People who fail to abide by these advertisement restraints will be charged with a fine of up to $5 million or a jail sentence of 3 years.
What are the Perks of Marijuana Legalization in Canada?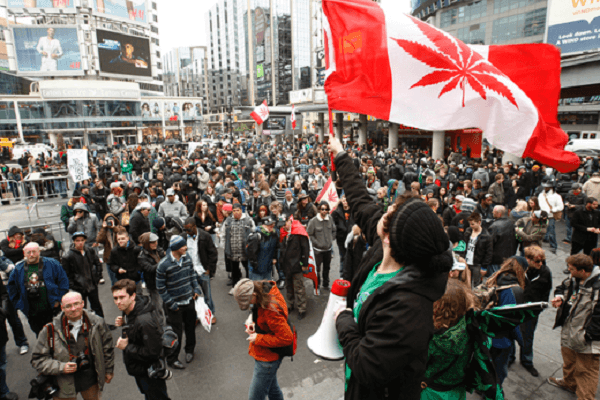 Source: Toronto Sun
The moment the Cannabis Act came into effect, anyone who was 18 years or older could legally:
Grow up to 4 cannabis plants for personal use, with one particular restraint – each plant should be no taller than 100 cm. In addition, home growers who want to cultivate marijuana in the comfort of their homes will have to purchase their seeds or seedlings from licensed manufacturers.
Make cannabis-infused products, such as edibles, concentrates, or topicals at home provided that they don't use any hazardous solvents.
Possess up to 30g of licensed dried marijuana or its equivalent in the raw form.
Share up to 30g of legal cannabis among other adults with no financial benefits.
Purchase legal marijuana and cannabis-infused products from a provincially-licensed dispensary. In those regions of Canada that haven't yet contributed to the regulated sales framework, Canadian adults will be able to buy cannabis online from government-licensed manufacturers.
As for other products, such as edibles, they will be available in dispensaries as soon as the government enforces respective rules for manufacturing and controlling in terms of sales development.
To What Extent Will the Cannabis Market Be Regulated?
Source: National Post
Overseeing the new system is a responsibility that the federal, provincial, and territorial governments will share.
As such, the federal government will be in charge of an array of regulations, including:
Defining the types of marijuana products that will be allowed for sale.
Maintaining restraints on cannabis marketing, i.e. companies won't be able to set marijuana commercials in traditional venues or even their official social media; unless, of course, retails handle the marketing discretely and without referring explicitly to marijuana.
Setting up the list of prohibited ingredients in cannabis products.
Officials are implementing all of this to ensure support for good production practices. Additionally, this paves the way for emphasizing the advantages of legal cannabis over the so-called gray sector.
As for provinces and territories, they both are subject to federal conditions. This means that they must fulfill the same duties as the federal government when it comes to overseeing marijuana legalization policies. In addition, each province or territory can increase the minimum age for marijuana consumption. For example, Ontario has already increased the minimum age to 19. Age restrictions aside, provincial and territory governments could also:
Create cannabis-friendly areas for smoking weed.
Introduce additional rules for growing marijuana at home.
Lower the limit of legal cannabis for personal use, should that be their will.
Benefits of Canada's Marijuana Legalization Policies
Strategic planning over the years has cultivated pot regulations that benefit the Canadian people in many ways:
Cannabis users can purchase weed dispensaries, in person or online.
Also, they have access to pot that goes through screening for contaminants.
Retailers and users no longer have to fear arrest for what most consider to be a beneficial drug.
Prices for government weed are low.
There is no blanket amnesty for marijuana offenders prior to the law. But the Canadian government did end the 5-year waiting period to apply for a pardon and waived the $631 application fee.
Making History
As of October 2018, Canada is only the second world nation to enact marijuana legalization. Interestingly, they are the very first major economy to do so. On top of that, people expect the Canadian cannabis industry to reach $6.5 billion by 2020. Moreover, users and retailers alike are ready to take their progressive, globally leading country into the age of sensible pot regulation.
After years of planning with a distinct consideration for the best interests of its citizens, the Canadian government has firmly laid the groundwork for the future of national marijuana legalization worldwide. To other countries including the US: What are you waiting for?