5 Great Writers Wrote Stoned – Find out Who!
13 Sep 2019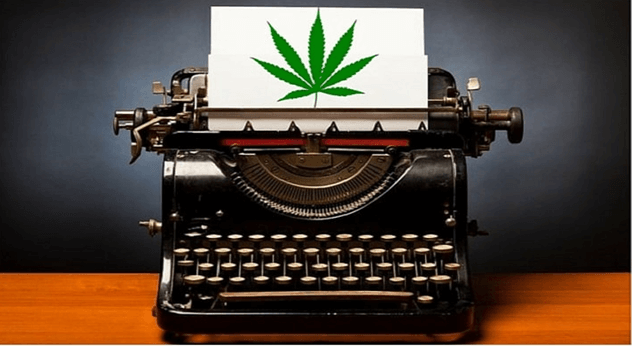 The written word has always held a certain sense of power and magic for its ability to engage the reader's imagination for the purpose of entertainment and education. Historically, many famous writers wrote stoned, adding an interesting way to be creative to the mix.
Why Would Writers Write While Stoned?
Be it an epic novel, or a romantic poem, a nonfiction biography or even a modern screenplay, somebody worked carefully and tediously for hours in order to bring their stories to life. We know that writing can be a slow and difficult process. But many writers have claimed that writing while stoned greatly assists them. Some writers believe being high allows them to focus on one thing at a time. It also eases their anxiety and brings out the creativity that they already hold within themselves.
In this article, we feature 5 great writers who wrote many of their greatest masterpieces while stoned.
Which 5 writers wrote stoned?
Carl Sagan
(Born 1934-Died 1996)
Literary Works
Carl Sagan was an American astronomer, cosmologist, astrophysicist, cosmologist, and author.
Sagan co-wrote and narrated the award-winning 13 part series Cosmos: A Personal Voyage in 1983, which was credited with popularizing science on television. The show has been viewed by at least 500 million people across 60 different countries. Sagan also wrote and published a book entitled Cosmos to accompany the series.
In 1983, he co-wrote a paper that introduced the concept of Nuclear Winter. In the following year, he published a book he co-authored entitled, The Cold and the Dark: The World After Nuclear War.
Sagan also wrote the popular science fiction novel Contact in 1985. This one was adapted into a film starring Jodie Foster in 1997.
Writing While High
Sagan regularly used cannabis from the early 1960s onwards. He believed the drug enhanced both his creativity and his scientific insights.
An advocate for the decriminalization of cannabis, psychiatrist Dr. Lester Grinspoon was friends with Sagan for three decades. He recalls an interesting incident involving Sagan. According to Grinspoon, sometime during the 80s, an anonymous admirer of Grinspoon gave him some unsolicited and unusually strong weed. Grinspoon shared the joints with Sagan and his wife Annie. Afterward, he recalls Sagan asking if he could keep the last joint as he had a chapter to finish writing the next day and he believed it would help him with his work.
Thoughts on Weed
"The illegality of cannabis is outrageous, an impediment to full utilization of a drug which helps produce the serenity and insight, sensitivity and fellowship so desperately needed in this increasingly mad and dangerous world." – Carl Sagan
Stephen King

(Born 1947-Current)
Literary Works
Stephen King is an American author who specializes in writing in horror, science fiction, thrillers, and fantasy.
King has published 56 novels and many of his works have been adapted for film including The Green Mile, Cujo, The Shining, The Shawshank Redemption, and The Dark Tower Series. The author has also written five non-fiction books and almost 200 short stories.
Writing While High
During the 80s, King was cranking out some of the greatest horror stories while snorting coke, chugging beer and smoking some good quality marijuana. During this era, he wrote novels like The Shining and Cujo.
King revealed in his biography that he actually spent most of the eighties on an extended drug and alcohol binge He even says he cannot remember working on many of the books he wrote during this period.
The novel Misery was King's first post-drug binge novel he wrote after he became sober, having quit all drugs and alcohol. It is about a crazed obsessive fan, Annie Wilkes, who holds a famous author prisoner in her house because she is his biggest fan. King describes the character of Wilkes as being a metaphor for his cocaine addiction.
While King may refrain from smoking cannabis these days, he is still a proponent for the legalization of marijuana and believes the laws against it are ridiculous and unjust.
Thoughts on Weed
"I think that marijuana should not only be legal. I think it should be a cottage industry. It would be wonderful for the state of Maine. There's some pretty good homegrown dope. I'm sure it would be even better if you grow it with fertilizers and have greenhouses." – Stephen King
Hunter S. Thompson

(Born 1937-Died 2005)
Literary Works
Hunter Stockton Thompson was an American journalist and author who wrote in a style that would be described as Gonzo journalism. This style of journalism has no claims of objectivity. It often includes the reporter as part of the story via a first-person narrative. Thompson is credited as having popularised this style of journalism, which is still used today for both social critique and self-satire.
Thompson's career in journalism lasted for several decades. During this time, he wrote many articles for different publications including Rolling Stone, The Boston Globe, The Chicago Tribune, The New York Times, The San Francisco Examiner, and Vanity Fair.
Thompson also wrote a number of books that were published from 1966 until the end of his life in 2005. His best-known works include Hell's Angels: The Strange and Terrible Sega of the Outlaw Motorcycle Gangs, The Rum Diary, and Fear and Loathing in Las Vegas: A Savage Journey to the Heart of the American Dream. This last one became a cult film starring Johnny Depp and with Terry Gilliam directing in 1998.
Writing While High
Thompson enjoyed smoked cannabis throughout his lifetime. He also actively campaigned for the legalization of the drug. Thompson conducted many of his interviews while high and often was well known for sharing joints with friends, colleagues and during parties.
Thompson's novel Fear and Loathing in Las Vegas: A Savage Journey to the Heart of the American Dream is based on autobiographical incidents experienced by Thompson.
The story follows protagonist Raoul Duke and his attorney Dr. Gonzo as they explore Las Vegas in 1971 through a drug-induced haze. Simultaneously, they attempt to report on the Mint 400 motorcycle race for an unnamed magazine. The job is repeatedly obstructed however by their constant use of different recreational drugs including LSD, ether, cocaine, alcohol, mescaline and of course cannabis.
Thoughts on Weed
"I have always loved marijuana. It has been a source of joy and comfort to me for many years and I still think of it as a basic staple of life, along with beer and ice and grapefruits- and millions of Americans agree with me." – Hunter S Thompson.
Quentin Tarantino

(Born 1963-Current)
Literary Works
Quentin Tarantino was born in 1963 and is an American director, writer, and actor. His films are characterized for their nonlinear story-lines, satirical subject matters, clever dialogue and plenty of good old fashioned violence.
Tarantino is widely considered to be one of the greatest filmmakers of his generation. The most famous films that he wrote and directed include Reservoir Dogs, Pulp Fiction, Kill Bill, and Django Unchained.
He also wrote the original screenplay for cult classic film Natural Born Killers.
Writing While High
Tarantino has been rather open about his cannabis use and has stated while he does get stoned when directing, he does often use the drug to help him write.
In 2012 after the release of Django Unchained, Tarantino when interviewed by Entertaining Weekly and Tarantino explained his writing process.
"You smoke a joint, you put on some music, you listen to it and you come up with some good ideas…I don't need pot to write, but it's kind of cool."
Tarantino has also revealed that he enjoys getting stoned with celebrity star and friend to the director, Brad Pitt.
The writer and director may have also taken advantage of the legalization laws in Colorado while filming his most recent film The Hateful 8. Tarantino was asked if he got stoned in order to help keep warm in the freezing conditions. Tarantino admitted that he did because pot's legal in Colorado.
Thoughts on Weed
"It's slavery… All the reasons that they have for keeping this going are the all same reasons they had for keeping slavery going after the whole world had pretty much decided that it was immoral. It's an industry." – Quentin Tarantino when asked about the US drug policy of criminalising cannabis.
William Shakespeare

(Born 1564- Died 1616)
William Shakespeare was an English poet, playwright, and actor and is widely regarded as one of the greatest writers in the English language. Shakespeare also created the historical Globe Theater and company, which is still visited by hundreds of thousands of tourists and lovers of drama every year.
Literary Works
Shakespeare is often referred to as England's national poet. Also known as the "Bard of Avon", his extensive works include 38 plays, 154 sonnets and collaborative work with other playwrights. Shakespeare plays have been translated into every major language and are still immensely popular when performed today. Shakespeare's most famous works include Macbeth, The Merchant of Venice, Romeo and Juliet, and Hamlet.
Writing While High
Unlike the previous entries, this one is unconfirmed. But research has suggested that Shakespeare likely got stoned smoking cannabis. A team of South African scientists performed forensic analysis on 400-year-old tobacco pipes dug up from Shakespeare's home and garden in Stratford-upon-Avon.
Results from the testing of the 24 pipe fragments indicated cannabis in eight of the samples, nicotine in at least one sample and in two samples definite evidence for Peruvian cocaine from coca leaves. The pipes containing the cannabis came from Shakespeare's property.
People have used cannabis for thousands of years. It became a criminal offense in the U.K during the early 20th century. So it's very possible getting stoned was completely acceptable. Shakespeare was very likely to have used cannabis for its mind stimulating properties. Additionally, it may have assisted his creativity while he crafted his language.
In fact, it's possible that Shakespeare's Sonnet 76 may contain some references to drug use. Throughout the lines, Shakespeare keeps referring to invention in a "noted weed" and to "new-found methods and compounds strange".
Thoughts on Weed
"Why with time do I not glance aside, to new found methods and to compounds strange? Why write I still all one, ever the same, and keep invention in a noted weed," – Sonnet 76 William Shakespeare
Now you know that these five famous writers wrote stoned, maybe you can try a little cannabis to help bring out your creative juices!