Weed Gifts Holiday Gift Guide
2 Dec 2020
Season weedings, friends! 
If you haven't already, it's time to get serious about considering what gifts to get your friends and loved ones as the holidays are fast approaching. 
Gift-giving can be a stressful and uncertain process. What better way to alleviate the pressure and promote feelings of relaxation and tranquillity than to provide a gift that allows the recipient to unwind and expand their mind? 
That's right. Today, we're talking about weed gifts! The Christmas tree isn't the only thing getting lit this year, fam.
Suppose you're struggling for ideas and can't seem to figure out the perfect gift to express your affection while also subtly and hopefully hinting that whoever receives the gift might share; you are in luck. We've got you covered. 
Be ready to accept the title of best gift-giver ever from family and friends because we're breaking down some of the best weed gifts to help you and yours celebrate with more than one kind of tree this year. 
Pyro – THC Distillate Ceramic Vaporizer Kit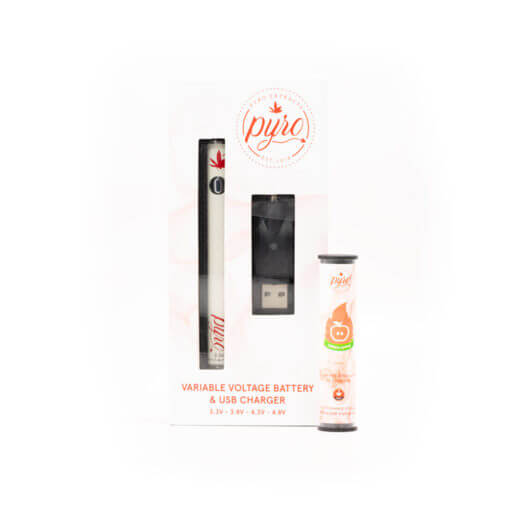 For those seeking a convenient and efficient method of enjoying their favourite herb, vaping presents a viable and effective option. 
Pyro seeks to redefine the cannabis experience by providing weed enthusiasts with the highest grade extracts and vaporizer kits produced via solvent-free extraction to present an honest, uncompromised, genuinely pure product. 
To provide an authentic, potent THC boost, a Pyro Extracts THC Distillate Ceramic Vaporizer Kit presents an excellent option for a gift that keeps on giving. 
Each cartridge contains 500 ml of premium THC distillate is reintroduced with strain-specific terpenes to provide users with a delicious, high-quality taste that only serves to heighten the vaping experience. 
With full-ceramic tanks that come in a variety of delicious flavours, Pyro vape kits are sleek and discreet, allowing users to enjoy them whenever and wherever they want. Whether your giftee is a beginner to vaping or cannabis in general, or a veteran of the herb, a vape pen is one gift that nobody would want to puff-puff-pass on. 
Top Shelf – Premium Pre-Rolls
You can't go wrong with a classic joint, but the process of gathering the materials and rolling them yourself can be tedious. The holiday season is about relaxing, not working! 
In this way, Top Shelf Premium Pre-Rolls supply the perfect solution so that all the recipient needs to do is spark up and enjoy. Top Shelf is passionate about embracing life's highs, not only motivated by the desire to create top-level products but also by the entirety of the cannabis culture and lifestyle. 
Top Shelf Premium Pre-Rolls offer high-quality flower joints that are sure to suit the fancy of any and all weed connoisseurs. Packed with intense and delectable aromas and flavours, users can enjoy AAA+ strains and hand-selected premium bud that entices and excites the senses. 
These pre-rolls provide an unparalleled convenience with their portability and accessibility, supplying an ideal experience that supersedes regular flower. 
Cannabismo – Hash Sampler
For the more experienced tokers in your life looking for something with a little extra oomph, a hash sampler may be the ideal gift choice to add some potency to their holiday celebrations. 
At Cannabismo, we take our ranking as the best online dispensary in Canada very seriously. We continuously strive to provide our customers with the best possible experience with every product we sell. 
Our approach to this premium hash sampler is no different. 
With 4 assorted grams of hash, users can indulge in one of the oldest forms of cannabis concentrates ever to exist but has never gone out of style. Our hash sampler provides a versatile gift for those looking for something they can consume through various methods with multiple strains to choose from.  
Whether they're looking to spruce up a joint, add an extra bang to their bowl or indulge in a potent one-hitter, whoever you give this weed gift to is sure to enjoy the endless possibilities.
Sugar Jack's – Assorted THC Gummies (200mg)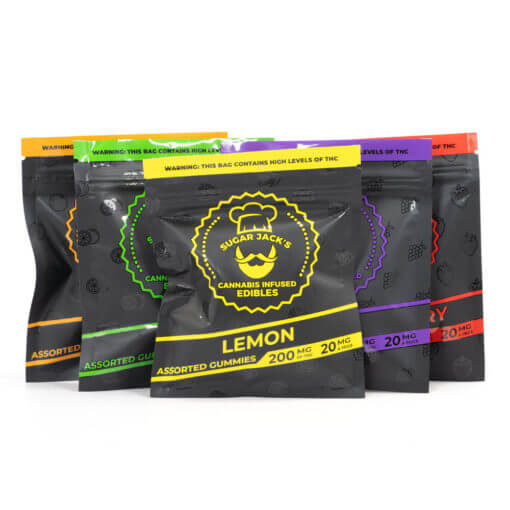 The holidays are a time of indulgence. It's the perfect excuse to cave into cravings and satisfy your sweet tooth, but Grandma's cookies don't have to be the only thing that gets baked – if you catch our drift. 
Sugar Jack's is dedicated to using quality, natural ingredients and flavours to enhance their hand-crafted products. 
They use organic fruit flavours and holistic ingredients, such as manuka honey and cane sugar, while utilizing only the best premium THC distillate extract to provide potency without compromising. 
Sugar Jack's Assorted THC Gummies provide a perfect option for weed gifts that both novice and experienced weed lovers can enjoy. With a collection of rich, delicious flavours and various options to choose from, these gummies are sure to be the hit of any holiday party or get-together. 
Cannabismo Sampler
It's true what they say. Variety truly is the spice of life. If you can't narrow your weed gifts down to one perfect gift, don't! With options such as our Cannabismo Sampler, let us do the legwork of putting together an ideal cannabis care package that any stoner would be happy to receive. 
We know that gift-giving can be difficult, and honing in on that one particular present can come with a lot of pressure. Don't settle for one okay gift when you could instead opt for a combination of items that is sure to send the recipient into a frenzy of excitement that makes them more than likely want to share the wealth. 
Our favourite #1 sampler contains a 10 ounce of flower hand-picked by our staff, 1 gram of authentic, quality shatter from Hooti Extracts before being topped off with a pack of delicious Medicated Hard Candies by Cannacure. 
A winning combination that is perfect for both experienced tokers and users who may be newer to the scene, this sampler provides an opportunity for versatility and variety that you can be proud to put your name on the gift label. 
Weed Gifts – Have Yourself a Merry-Juana Holiday
This year, switch your wrapping paper for some pre-rolls, your gingerbread house making kit for a vaporizer kit, really get into the true sentiment of the season and relax, unwind and spread some holiday cheer. 
We've made our list and checked it twice. We hope it helps inspire you to find the perfect item for the tokers, blazers or casual grazers in your life who all appreciate the benefits of the righteous reefer. 
Even still, maybe it has given some food for thought regarding what you'd like to ask for this holiday season, which is perfectly okay too! As long as the appreciation for bud is there, we're all for it. 
Speaking of food, might we suggest giving Santa a little something extra when you leave out his cookies this year? It might be just what the fat man needs to get his reindeer, sleigh, and even himself to fly a little bit higher. 
As always, stay safe and enjoy. Happy holidays!