How to Make Your Own Weed Edibles
13 Sep 2019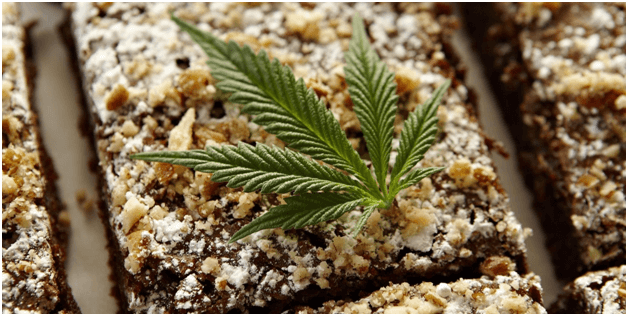 Although you may not be aware of your superpowers yet as a stoner, you are certainly capable of creating your own 'circle of life' which may be perceived as a sort of perpetual 'weed' of motion. Basically, you get blazed, you get munchies, then you cook some delicious meals, smoke some more weed, and get munchies again. Simple? You bet! Now, we'll show you how weed edibles fit in with this cycle.
We know that smoking is not the best way of keeping your lung's health in prime condition, so may already be seeking extra methods of maintaining this circle by consuming weed in other ways. This is where cannabis-infused edibles step into the game! The very process of cooking is already magical, so why not add more magic to it by preparing meals that will make the term 'super foods' to a whole new level?
You may consider yourself lucky, as I'm going to teach you how to make your own weed edibles. Please, fasten your seat-belts, because we're going to get really high this time – both literally and metaphorically.
Don't want to make weed edibles yourself? Check out our available edible cannabis products to give yourself a tasty treat.
How to Make Your Own Weed Edibles?
Source: National Geographic
First of all, you must infuse your foods with the magical power of cannabis. This can be achieved with several simple steps which require basic cooking skills and a fair dose of patience. In the first part of this article, we'll focus on drawing the power from the herb, which is called decarboxylation. After that, your decarbed cannabis will constitute an ingredient of the magical cannabutter. Don't be afraid, I've got this process mastered, too, and I'll be more than happy to assist you in your green endeavor. As soon as you gain the necessary knowledge, I'm going to provide you with a killer recipe for cannabis-infused brownies, leaving no stone unturned. Off we go!
Decarboxylation
Source: Green Rush Daily
Before we move on to producing our own cannabis butter, we should take care of extracting the power of the herb by decarbing the plant. Simply put, decarboxylation is all about transforming the non-psychoactive THC-A to the psychoactive THC under the influence of high temperatures.
Are you still with me? Awesome. To make it through a decarboxylation process, you'll need an oven, a baking sheet, and the most impressive buds from your cannabis arsenal. Oh, and be sure to remember about a fine pot grinder. Let's take a look at a quick step-by-step guide on decarbing the herb:
Preheat the oven to 212 F.
Line the baking tray with parchment paper and spread your ground buds over the surface in an even layer.
Bake the weed for up to 60 minutes.
Keep in mind that the 'boiling point' of THC is 315 F, so be careful not to go overboard with heat unless you like wasting your supplies (which would be, least to say, weird.)
The Right Fat
Source: India Times
When it comes to cooking, fats are hands down the best THC transmitters. It goes without saying that you should go for the top-notch quality fat in order to indulge yourself in flavourful meals. For weed edibles, you should go for clarified butter. It's clean, free of any milk debris, and thus has a deep flavour, which is invaluable in cooking – usually I don't like to repeat myself, but the choice of fat is of utmost importance. Today, you will find clarified butter in almost every store. It's more expensive than traditional butter, but it's totally worth the price.
If you would like, you can try this vegan edible recipe instead, so you don't use butter.
Patience
When preparing the magical butter, remember that it has to be done slowly. You don't even bring it to a boil; in fact, you have to set the minimum heat possible and the extraction will take about 3 hours, requiring you to stir the mixture from time to time.
Your Own Magical Cannabutter
Source: The Cannabist
Now that you know how to prepare the basis for your weed edibles, it's the right time you roll up your sleeves and start working.
Ingredients:
450g clarified butter
500ml water
28g (1 oz.) decarbed and ground cannabis
Equipment:
One large pot
One spatula
One metal strainer
One glass bowl
Instructions:
In a large pot, melt the clarified butter in the water over medium heat and bring it to a simmer. The liquid will be active at that time, and you should notice small bubbles around the surface.
Stir in your cannabis and reduce the heat. Cook the mixture for about 3 hours, stirring every 30 minutes. Once again – don't bring it to a boil!
In the meantime, prepare a large glass bowl and a metal strainer.
Pour the cannabutter mixture into the bowl through the strainer, pressing a spatula against the sieve so that you get the most of your resources.
Remove the strainer and cover the bowl with a plastic wrap. Leave the bowl in a fridge overnight. By that time, your cannabis mixture will be divided into stiff butter and a layer of water.
Remove the water and run a knife over the edges of your bowl. Place the butter in an airtight container and store it in the fridge.
Okay, that would be pretty much everything about preparing the main magical constituent of our weed edibles. As you can see, the process is anything but difficult and if you have enough time to experiment a bit in your kitchen, the world is yours. Nevertheless, I promised that I would provide you with a killer recipe for weed brownies, right? Being a man of my word, I wouldn't forgive myself if I omitted that step.
Don't take your apron off! We still have some delicious stuff to do.
Weed Edibles: Space Chocolate Brownies
Source: Herb.co
If you've ever eaten a space cake, you must've wondered "What kind of sorcery is this?" Well, sorry to burst your bubble, but these space cakes are nothing more than old-school brownies with magical cannabutter inside. Simply put, all you have to do is infuse your brownie batter with your powerful canna-fat.
If you're searching for a perfect homemade weed brownies recipe, take my hand and follow me to the details.
Equipment:
One flat baking form (30x20cm)
Two large bowls (one of them should be heatproof)
A saucepan
An oven
A baking sheet
A spatula
A hand mixer
A wooden toothpick to check if the cake is ready
Ingredients:
2 tbsp. Cannabis butter, room temperature
140g unsalted butter, room temperature
115g dark chocolate
3 large eggs, room temperature
110g raw cane sugar
A pinch of salt
1 tsp. Vanilla extract
130g all-purpose flour
Instructions:
Preheat the oven to 370 F
Line your baking form with a baking sheet
Melt the chocolate with the butter in a water bath, stirring until well combined. Remove from the heat.
Stir in the sugar and whisk until dissolved.
Add the salt, eggs, vanilla, and cannabutter. Mix on low speed for about 2 minutes.
Fold in the flour with a spatula and stir until well combined.
Spread the brownie batter over the prepared baking form in an even layer.
Bake for 35 to 40 minutes. To check if the brownie is ready, insert the toothpick into the cake and if it comes clean, it's time to turn off the oven.
The only bad thing about this brownie is that it disappears too quickly. What's your story with weed edibles? Have you tried making your own cannabis-infused food? Share your experience with us!
Still hungry? Check out these Cannabis Infused Burger Mac & Cheese recipe and Adult S'mores recipe.