CBD Tinctures – Benefits, How to Use and More
23 Jul 2021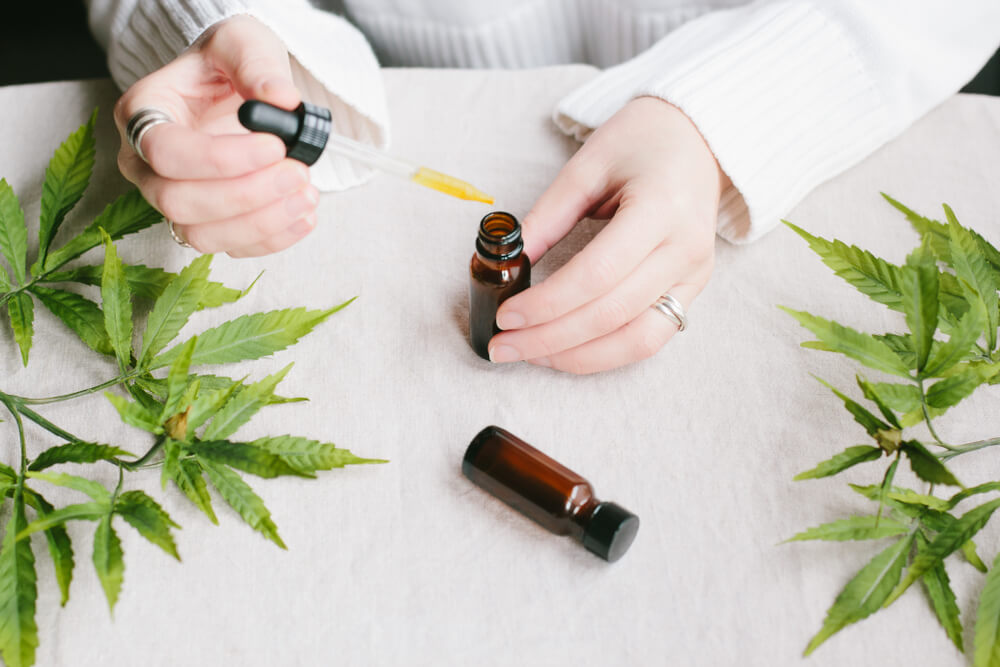 CBD is available in many forms, several of which you can consume orally, such as oils and CBD tinctures. 
Tinctures have some of the highest purity levels, thanks to their production process and minimal ingredients. As a result, their benefits exceed those of oils, and they may even be better for your health, too!
That said, if you have just heard of CBD tinctures for the first time, don't worry!
Today, we are going to discuss what a CBD tincture is, how to use them and what sets them apart from CBD oil.
Without further ado, let's get started!
What is a CBD Tincture? How is it Made?
A tincture is a highly purified concentration of medicine dissolved in alcohol. In this case, a cannabidiol (CBD) tincture is a type of cannabinoid extract with many therapeutic and medicinal applications suspended in a solution of alcohol. 
As a primary active cannabinoid, hemp-derived CBD offers many benefits when consumed, such as anxiety and pain relief. What's more, those benefits are enhanced when using CBD in tincture form due to its highly purified nature. 
A CBD tincture is made by steeping cannabis plant materials in alcohol or a solvent mixture containing water and alcohol. Using alcohol and water, producers extract CBD from hemp plants and mix it with a carrier oil later to enhance the taste, flavour, and bioavailability.
What are the Benefits of Using CBD Tinctures? 
CBD products like CBD or hemp oil are packed with health and wellness benefits, even more so when they're in tincture form. 
Cannabis scientist and professional Wieland Peschel notes that the bioavailability (a measurement of how well your body can absorb the tincture) of an oral CBD tincture is "slow and less predictable" than smoking. 
Still, with the correct dosage, tinctures can provide cannabis's benefits much faster and with more potency than other consumption methods. Dosage differs between individuals, so it's best to speak to a physician about what's right for you. 
Despite the need for more research, CBD tinctures are excellent supplements for helping ease a wide range of medical symptoms. 
Some studies have shown that it's useful for improving mental health, helping people manage their nervousness, social anxiety, and cognitive impairments. It can also assist recovery from post-traumatic stress disorder (PTSD). 
Its physical advantages are even more plentiful. CBD has been shown to improve sleeping habits, reduce seizures in epileptic patients, and mitigate chronic pain from a broad range of medical conditions. 
How to Use CBD Tinctures
In most cases, CBD tinctures are consumed differently than oils and other cannabis products. Instead of applying them to the skin or mixing them into food, tinctures are best used sublingually or under the tongue. 
Although scientists are currently testing CBD tinctures' efficacy as a medicinal product, these product types are far more effective than others, like oils. 
Depending on the manufacturer's instructions, you'll need to hold it under your tongue for between 30 to 90 seconds.
However, you may need to use a relatively high or low dosage, depending on the type of tincture you use. Some studies have shown that formulas containing 80-90% ethanol have ten times the cannabinoid concentration as others with only 40% ethanol. 
CBD Oil vs CBD Tincture 
CBD oil and tinctures are made quite differently, although they both require the processing of various cannabis plant materials. 
The production and consumption distinctions between the two can directly affect how beneficial the product is for your health and may even cause the supplement to be bitter in taste. 
Here're the three distinct differences between the two products.
Oil Based vs. Alcohol Based 
CBD oils can be either alcohol- or oil-based. Depending on which you choose, the production process can strengthen or harm its effectiveness as a supplement. You can make CBD oil using these methods: 
Carbon dioxide extraction

: This entails the use of CO2 under high pressure and low temperatures to isolate pure medicinal oil. It's expensive and requires high-grade equipment; yet, these oils are extremely potent, safe, and have no chlorophyll (the substance that gives cannabis plants their green colour and harsh taste). 

Ethanol or olive oil

: You can use both these substances to extract and isolate CBD. Ethanol creates impressively high-quality CBD but destroys plant waxes, possibly eliminating some health benefits. Alternatively, you can use olive oil to extract CBD. It's not the best method but is safe for the average person to do on their own. 
Making a CBD tincture instead requires the use of high-proof alcohol as a solvent. Once CBD is extracted, the alcohol is used as an ingredient in the final product, too. 
Depending on your preference, you can also integrate supplements like melatonin or vegetable glycerin to combat the bitterness.
Ingestion Method
Another area where oils and tinctures differ significantly is the method of ingestion. 
CBD oils are far more versatile than tinctures in terms of use alternatives. For example, you can smoke CBD oil in a vaporizer, use it sublingually, or even apply it to your skin. 
However, tinctures are designed to be ingested only. You'll just waste it by rubbing it on your skin. They're most effective when added to food or consumed directly in the mouth. You can apply tinctures under the tongue as well. 
The consumption differences also affect how long it takes for your oil or tincture to produce the desired effects. For instance, ingesting CBD oil typically yields effects between 1-2 hours after use. However, some experts say that tinctures can provide relief in as little as 15 minutes.
Taste 
The taste of CBD oils and tinctures varies significantly. Makers can include all sorts of added flavours and preservatives in their production, which is why experts warn consumers to be careful about where they buy supplements. 
CBD oils might not have any added flavouring but essential oils instead to offset the bitterness. Some users complain that CBD oils taste like the cannabis plant itself or "earthy."
CBD tinctures, on the other hand, are alcohol-based solutions. They usually include sweeteners or additives that taste like specific foods, like citrus fruits or berries.
For example, Hooti Extracts offer CBD tinctures in many fruit flavourings, such as blueberry, strawberry, ginger lime and mango. Experience the full benefits of cannabis without any psychoactivity with their CBD tinctures.
CBD Tinctures – A Great Way to Medicate
Here you have it — a full guide to CBD tinctures, their benefits and ways to use them.
CBD tinctures are a great way to deliver the fast-acting benefits of CBD. They are easy to use, portable and come in many delicious flavours to satisfy tincture aficionados.
Unlike CBD oils, which can take from 1-2 hours to kick in, tinctures supply fast effects in less than 15 minutes when applied sublingually. You can add tinctures to your food as well, although they're most effective when consumed directly in the mouth. 
If you are looking to try CBD tinctures, check our online dispensary for a great selection of CBD tinctures and other products such as edibles, vaporizers and more.
Happy medicating!