Bubba OG Review – The Best OG Classic?
12 Jan 2022
Bubba OG is one of those classic weed strains that you just can't get away from, no matter where you're located. A prominent member of the OG family of strains, Bubba OG is a potent indica-dominant hybrid strain with a signature look, an unforgettable flavour and an even more amazing high. If you haven't had the chance to try Bubba OG for yourself, or just want to learn more about what this strain has to offer, here's our Bubba OG review to one of the most popular indica strains of all time.
Bubba OG Review – What is It?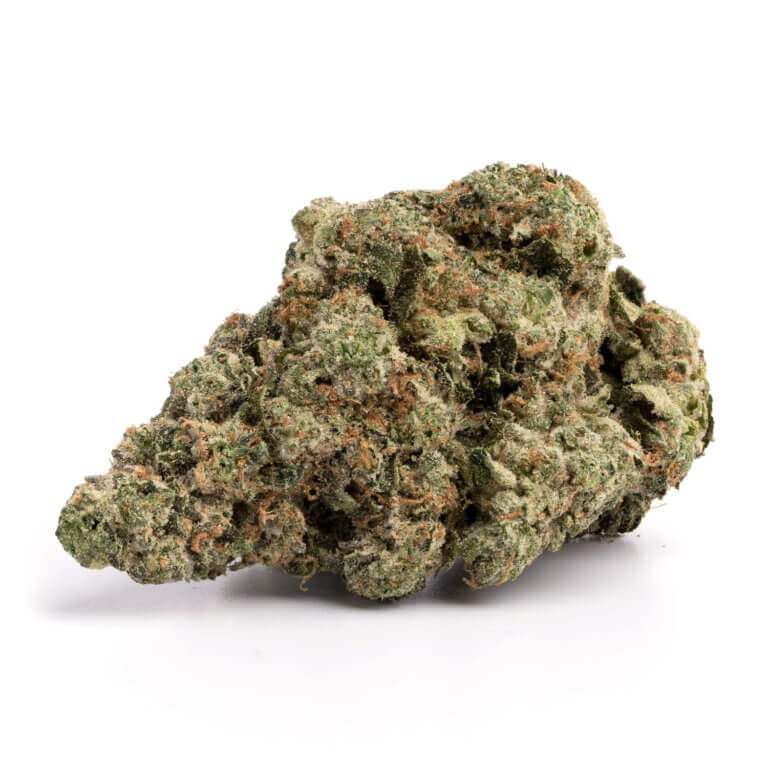 Bubba OG is an indica-dominant strain developed by the "Dr. Greenthumb Seeds" seed bank by combining a special breed of Bubba Kush titled 'pre-98' with Ghost OG, another prominent member of the OG family.
Still, although Greenthumb Seeds was the first group to cultivate this dynamic strain, many other grassroots cultivators have taken it upon themselves to refine the genetics with the more commonly available, regular version of 'Bubba Kush' instead of the pre-98 version.
Today, both varieties are available, although the regular Bubba Kush version is more commonly available for purchase. Regardless of the genetics, Bubba Kush amazes tokers with its dense, chunky that are medium in size.
As an indica-dominant hybrid, Bubba OG has a classic, stocky look with amazing colouration. Bubba OG nugs are beautiful and feature bright hues of forest green, deep purples and moody blues. Like many other purple weed strains, just because a weed strain can turn purple doesn't mean that it will. Strains that can turn purple will only do so under the most optimal conditions so if your Bubba OG is purple, you know you're hitting that good-good!
On the surface, Bubba OG is also one of those rare strains that have white trichomes covering the entire nug. White and sticky, this thick layer of kief elevates its potency to a frosty height of 27% and gives this indica-dominant strain an iced-out look.
What is Bubba OG Good For?
Bubba OG is great at a variety of things, but it's most commonly used to help its users kick back and relax. While many indica strains are infamous for inducing feelings of anxiety, Bubba OG does wonders in alleviating it, instead. In addition to its anxiety-relieving effects, Bubba OG is also extremely effective at relieving depression, insomnia and other mood disorders.
However, novice tokers will fare better if they heed caution. While Bubba OG has many benefits, it's also a high THC strain that can lead to some tokers suffering negatively if they partake in too much, which leads us to our next section:
Will Bubba OG Get You High?
Will Bubba OG get you high? It's a resounding yes from us! Bubba OG's sweet, berry-like smoke accented with fresh pine and fruit delivers a high unlike any other. After all, there's a reason why Bubba OG is one of the most popular strains out there!
To start off the experience, Bubba OG delights its users with a rush of euphoria and happiness that settles nicely between the eyes. Users will feel a cerebral pressure slowly build in the head until the high moves out through to the rest of the body.
As Bubba Kush lets its effects be known, its physical effects kick in to make colours brighter, flavours more intense music sound heavenly. Users will also feel incredibly focused, allowing them to tune into any task that they may have in hand, as long as it doesn't involve physical exertion or hand-eye coordination!
As an indica-dominant hybrid, Bubba OG's harsh smoke can also impart some serious sedation on the physical side of effects. Users will feel their limbs get heavier and heavier as the high progresses, it'll eventually culminate in a sedative, sleepy sensation that can help eliminate even the most stubborn cases of insomnia.
Unlike other indica strains, Bubba OG doesn't impart any intense feelings of intense paranoia, making it a good choice for intermediate smokers looking to level up their smoking game.
Bubba OG Customer Reviews – What Are Tokers Saying?
Bubba OG is an OG kush strain, so it's no surprise that tokers have a lot to say about this strain. Here's what some smokers are saying in their full review of this high THC and high yield strain!
Many users report that Bubba OG is great for nighttime use since it helps put them to sleep easily and quickly. Other users are also enjoying the heavy and rich taste that this marijuana strain delivers.
Here's what one user has to say about Bubba OG:
"This stuff is really good.
High Duration: 1-3 hours heavy body buzz couch lock boosted mood, became sleepy after smoking too much. It's still fire though.
This stuff is a heavy smoke put me to sleep while stimulating my appetite. Will be ordering some more"
Certainly, medical users looking for something strong to alleviate nighttime restlessness and poor mood need to look no further than Bubba OG!
Final Thoughts
Bubba OG is a great, classic strain with a little something for everyone. A popular marijuana strain with great flavor and a high potency, this is one indica you can enjoy time and time again! Visit our online dispensary to pick up this potent strain on the cheap today!